2022 Nissan Ariya Preview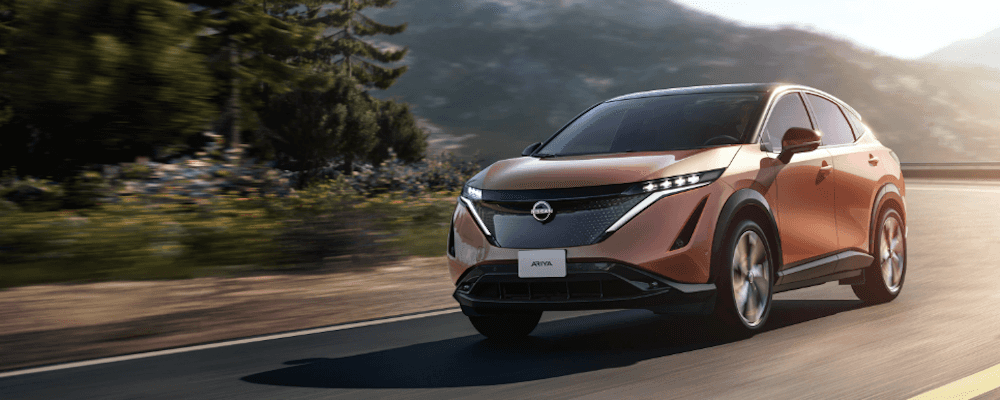 Nissan is setting new standards in the car industry with the announcement of the 2022 Nissan Ariya: a new all-electric Nissan vehicle for the next generation. Unlike the new Nissan Leaf, the Nissan Ariya will be an electric crossover SUV and will offer up to 300 miles of driving range in Richmond. Slotted for release in 2021, the Nissan Ariya promises to bring powerful electric performance and sleek new design to the Nissan family. Explore this all-electric Nissan crossover SUV with Gates Nissan to learn about its performance, interior, and unique design. Have questions about the Nissan Ariya release date? Feel free to contact our team for more information!
2022 Nissan Ariya Range & Performance Specs
There are many differences between the Nissan Leaf and the Nissan Ariya. For one, the 2020 Nissan Leaf is classified as a hatchback sedan, while the Nissan Ariya will be an electric crossover SUV. However, it's the Ariya model's drivetrain that really differentiates it from its all-electric sibling. The 2022 Nissan Ariya will offer both front-wheel drive and all-wheel drive capabilities for Lexington drivers. It will also premier two battery options: a 63.0-kWh battery, and a larger 87.0-kWh battery. These battery options will allow drivers a 300-mile range on a full charge and fast recharging times. With the ability to go from 0 to 60 in less than 5 seconds, the Nissan Ariya will surely give Berea drivers the range, capability, and thrills they're looking for.
2022 Nissan Ariya Interior Features
The interior of the Nissan Ariya brings a fresh and sophisticated look to the Nissan lineup. As an all-electric Nissan crossover SUV, the Nissan Ariya offers abundant legroom, cargo room, and seating for up to five people. A flat, low floor helps with overall cargo space, and zero-gravity seats offer a comfortable ride though London.
The interior design for the Nissan Ariya is a combination of minimalism and futuristic. Instead of an abundance of buttons on the dashboard, Nissan has opted for a touch-console and dual 12.3-inch displays to serve as the digital gauge cluster and the infotainment screen. These displays are incorporated into the dashboard, allowing them to be accessible without jutting out and interfering with windshield visibility. Apple CarPlay® and Android Auto™ will come standard on the Nissan Ariya, along with in-dash navigation. Features like over-the-air firmware updates and wireless charging will also be offered, along with a standard array of infotainment, climate control, and comfort amenities.
2022 Nissan Ariya Design Highlights
The design of the Nissan Ariya is perhaps its most genius aspect. Despite being one of the most tech-forward vehicles on the road, the Nissan Ariya sheds the overly-stylized futuristic designs that most electric crossover SUVs have. Instead, it opts for softer, more family-friendly exterior design elements like soft body lines and curves for a sporty, but modest look. However, it will still boast unique features like stylized wheels, ultra-thin headlights, and brake lights that stretch across the rear panels. The front grille will also give it a distinctive look, but it won't deter more conventional drivers who are considering a shift to an all-electric vehicle.
Learn More About The 2022 Nissan Ariya
The official price points of the 2022 Nissan Ariya configurations have not been released yet, but early estimates place its base trim level around $40,000 MSRP*. Stay tuned to the Gates Nissan website for more information on this all-electric Nissan crossover SUV as it becomes available. In the meantime, you can browse our new vehicle inventory to see our current Nissan selection, and contact our finance center to begin planning whether you should lease or buy the new 2022 Nissan Ariya!
More from Gates Nissan
Since its inception, the Nissan Rogue has performed admirably against competitors like the Honda CR-V or the Volkswagen Tiguan. The 2021 Nissan Rogue redesign, however, is setting new standards in the compact SUV market, and puts the Rogue far ahead of its competition. Learn more about the new Nissan Rogue interior, performance, and safety system…

Nissan is setting new standards in the car industry with the announcement of the 2022 Nissan Ariya: a new all-electric Nissan vehicle for the next generation. Unlike the new Nissan Leaf, the Nissan Ariya will be an electric crossover SUV and will offer up to 300 miles of driving range in Richmond. Slotted for release…

The new Nissan Rogue is a popular SUV among Richmond drivers because of its easy driveability. Drivers can navigate Lexington roads with ease or travel to their favorite camping spot with the Nissan Rogue model's exceptional performance and capability. The 2020 Nissan Rogue has a maximum towing capacity of 1,102 pounds, which is perfect for…