How to Install a Car Battery
Should you ever need to replace your car battery, it's helpful to know how to actually install a car battery, so you can get back on the roads of Richmond. Here, the team at the Gates Nissan service center outlines how to install a car battery, so you can perform this right in your own Lexington driveway. Need to order a new battery prior to your Nissan battery replacement? Check out our service specials for discounts on new batteries and more!
Prepare to Install a New Car Battery
First, gather the following tools from your garage or local Berea auto parts store:
Wrench
Battery cleaning solution
The new battery
Wire brush
Pliers
Anti-corrosion spray
Then, take the proper safety precautions related to installing a new car battery:
Always turn the car off.
Wear insulated gloves.
Wear safety glasses.
Perform the installation in a well-ventilated area.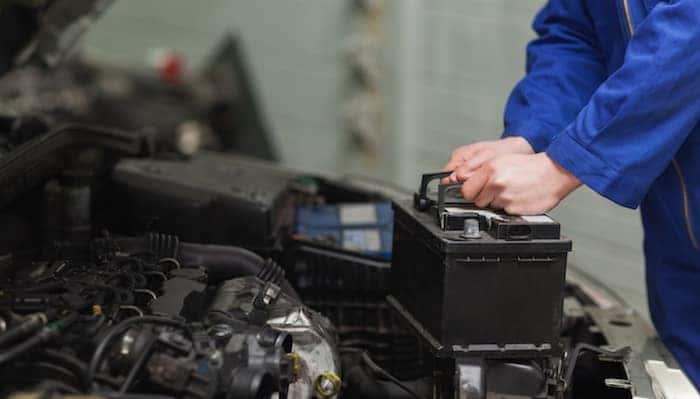 Removing the Old Battery
Pop the hood, and locate the battery.
With a wrench or pliers, remove the nut connecting the negative (black, minus sign) cable to its terminal.
Once freed, secure the negative cable out of the way with a zip tie or another restraint. Perform the same procedure for the positive, red terminal. Do not allow the cables to touch.
Loosen the battery from its holding bracket bolts, if it has a battery box.
Remove the battery carefully; be aware that it may weigh as much as forty pounds!
At this point, use your battery cleaning solution and wire brush to clear off any built-up corrosion.
Installing the New Battery
Place the new battery into the battery bracket and secure it with any hold-down clamps.
Spray the new battery terminal with your anti-corrosion spray to extend the life of your battery and protect it from any potential damage.
Reattach the battery cables to the new battery's terminals. Connect the red cable first, followed by the black cable.
Start your vehicle. It should fire up as you would expect!
Rely on Gates Nissan for Car Battery Maintenance Help
If you have any other questions regarding how to install a car battery before you perform the replacement, contact us today! We are more than happy to guide our London neighbors through the process. If you'd feel more comfortable having a Gates Nissan technician conduct the installation, schedule a service appointment today.
Recent News from Gates Nissan
Since its inception, the Nissan Rogue has performed admirably against competitors like the Honda CR-V or the Volkswagen Tiguan. The 2021 Nissan Rogue redesign, however, is setting new standards in the compact SUV market, and puts the Rogue far ahead of its competition. Learn more about the new Nissan Rogue interior, performance, and safety system…

Nissan is setting new standards in the car industry with the announcement of the 2022 Nissan Ariya: a new all-electric Nissan vehicle for the next generation. Unlike the new Nissan Leaf, the Nissan Ariya will be an electric crossover SUV and will offer up to 300 miles of driving range in Richmond. Slotted for release…

The new Nissan Rogue is a popular SUV among Richmond drivers because of its easy driveability. Drivers can navigate Lexington roads with ease or travel to their favorite camping spot with the Nissan Rogue model's exceptional performance and capability. The 2020 Nissan Rogue has a maximum towing capacity of 1,102 pounds, which is perfect for…