How to Install a Car Battery
Should you ever need to replace your car battery, it's helpful to know how to actually install a car battery, so you can get back on the roads of Richmond. Here, the team at the Gates Nissan service center outlines how to install a car battery, so you can perform this right in your own Lexington driveway. Need to order a new battery prior to your Nissan battery replacement? Check out our service specials for discounts on new batteries and more!
Prepare to Install a New Car Battery
First, gather the following tools from your garage or local Berea auto parts store:
Wrench
Battery cleaning solution
The new battery
Wire brush
Pliers
Anti-corrosion spray
Then, take the proper safety precautions related to installing a new car battery:
Always turn the car off.
Wear insulated gloves.
Wear safety glasses.
Perform the installation in a well-ventilated area.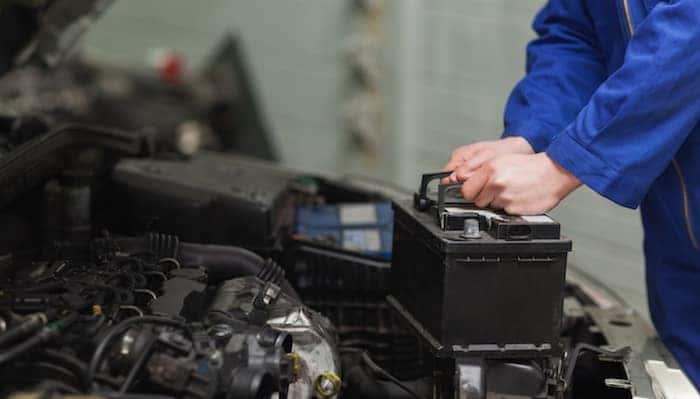 Removing the Old Battery
Pop the hood, and locate the battery.
With a wrench or pliers, remove the nut connecting the negative (black, minus sign) cable to its terminal.
Once freed, secure the negative cable out of the way with a zip tie or another restraint. Perform the same procedure for the positive, red terminal. Do not allow the cables to touch.
Loosen the battery from its holding bracket bolts, if it has a battery box.
Remove the battery carefully; be aware that it may weigh as much as forty pounds!
At this point, use your battery cleaning solution and wire brush to clear off any built-up corrosion.
Installing the New Battery
Place the new battery into the battery bracket and secure it with any hold-down clamps.
Spray the new battery terminal with your anti-corrosion spray to extend the life of your battery and protect it from any potential damage.
Reattach the battery cables to the new battery's terminals. Connect the red cable first, followed by the black cable.
Start your vehicle. It should fire up as you would expect!
Rely on Gates Nissan for Car Battery Maintenance Help
If you have any other questions regarding how to install a car battery before you perform the replacement, contact us today! We are more than happy to guide our London neighbors through the process. If you'd feel more comfortable having a Gates Nissan technician conduct the installation, schedule a service appointment today.
Recent News from Gates Nissan
It's always interesting to see a new concept car. These models can offer us a look at how our favorite models could evolve in the near future. One concept that recently caught our eye here at Gates Nissan of Richmond was the Nissan IMx. This sleek SUV could pave the way for some unique new…

Here at Gates Nissan of Richmond, we know that many shoppers look forward to Black Friday deals every year. Don't just shop for deals on electronics this holiday season. Visit our Nissan dealership and take advantage of our Black Friday offers. Right now we're celebrating the Master The Drive Sales Event, and it's a great…

If you've been paying attention to the auto industry lately, we're sure that you've noticed how popular SUVs and crossovers have become. Here at Gates Nissan of Richmond, we've noticed that many drivers are interested in models like the 2018 Nissan Rogue. These vehicles offer extra cargo space, comfortable seating, and the latest safety features….