How to Start a Nissan With a Dead Key Fob
There's nothing worse than running errands around Berea and then realizing your Nissan key fob battery has died. Most likely, a Nissan key fob battery change will be needed as soon as possible. However, until then, you might be wondering how to start a Nissan with a dead key fob battery. Our Gates Nissan service center in Richmond is here to tell you! Read on to learn about Nissan key fob replacement and more.
How to Get into Your Nissan
You know that you'll need a Nissan key fob replacement, but you still need to get into your vehicle! Here are the steps for entering your Nissan while dealing with a dead key fob battery:
Turn the key fob over, then push the small release latch.
Remove the emergency hidden key from underneath the device.
Use the emergency key to unlock your driver's side door.
How to Start a Nissan With Dead Key Fob
You're finally inside, so it's time to start your Nissan! If there is a key fob port in your vehicle, you will be able to place the fob in the port. The next step is to lightly tap the clutch or brake pedal while pressing your START/STOP button. Even though your Nissan key fob battery is dead, you can still step on the brake or clutch while pushing the key fob against the START/STOP button without a key port; the process is the same, except for inserting the key fob into a port.
Nissan Key Fob Battery Replacement
Now that you know how to start a Nissan with a dead key fob, you should know how a Nissan key fob battery change works. Follow these step-by-step instructions for Nissan key fob replacement:
Remove the hidden key from the fob.
Take out the key housing to remove the dead battery.
Replace the CR2025 battery; you can buy these batteries at virtually any convenience or hardware store in Richmond.
Double-check that the negative side of the battery faces you before closing the key fob housing.
Finally, put the key fob back together, and then test it to make sure it works before driving off to London.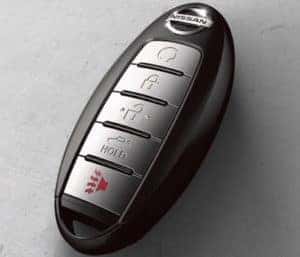 Need Further Assistance with Nissan Your Key Fob?
Gates Nissan is here to help you with all your service needs, including any remaining Nissan key fob battery change questions you may have. Contact us today with any Nissan key fob battery questions!
Recent News from Gates Nissan
It's always interesting to see a new concept car. These models can offer us a look at how our favorite models could evolve in the near future. One concept that recently caught our eye here at Gates Nissan of Richmond was the Nissan IMx. This sleek SUV could pave the way for some unique new…

Here at Gates Nissan of Richmond, we know that many shoppers look forward to Black Friday deals every year. Don't just shop for deals on electronics this holiday season. Visit our Nissan dealership and take advantage of our Black Friday offers. Right now we're celebrating the Master The Drive Sales Event, and it's a great…

If you've been paying attention to the auto industry lately, we're sure that you've noticed how popular SUVs and crossovers have become. Here at Gates Nissan of Richmond, we've noticed that many drivers are interested in models like the 2018 Nissan Rogue. These vehicles offer extra cargo space, comfortable seating, and the latest safety features….