How to Properly Jump Start a Car
If you need to know how to jump start a car, Gates Nissan has you covered! If your vehicle won't start, it's possible you will have to jump start the battery. Even if you've been fortunate enough to never have been immobilized by a dead battery, knowing how to jump start a car is still a valuable skill every driver around Lexington and Richmond should have.
Step-by-Step Instructions for Jumping a Car
If you don't have the option of calling AAA or a jump-start car service, you can revive a dead battery with the help of another car. Before you begin, you will need a durable set of jumper cables. You don't need to spend an excessive amount of money, but because of the safety risks during the process, you'll want to refrain from buying the cheapest set you can find. In addition to sturdy cables, you will need another vehicle to which you can connect. Once these are available, follow these steps:
Park the car with the live battery in front of your vehicle, so the two are facing each other. It's important to make sure both cars are turned off and the brakes are engaged.
Locate the battery in each respective vehicle after opening the hoods. The terminals on the batteries may have to be exposed by removing their plastic protective caps.
Establish which terminals are which by looking for the positive (+) and negative (-) signs on the battery. Clean them if necessary to ensure you have a good connection.
Attach the red clamp to the dead battery's positive terminal.
Connect the second red clamp to the positive terminal of the live battery in the other vehicle.
Attach the black clamp to the negative terminal on the live battery.
The fourth and final clamp needs to be attached to the car's unpainted frame to ground the current.
After checking to confirm everything is attached properly, start the car with the live battery. Let the engine run for approximately 30 seconds.
Start the car with the dead battery.
Carefully remove each of the clamps, and close the car hoods.
Do not turn your car off. Let the previously dead vehicle run for 10-15 minutes, so the alternator has a chance to recharge the battery. If you shut it off too soon, then the vehicle may require another jump.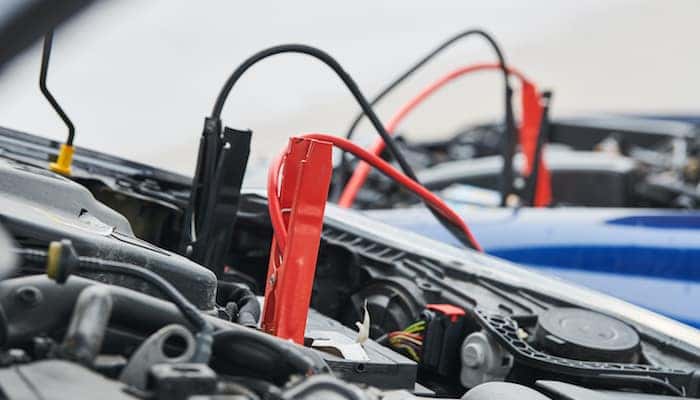 Additional Car Battery Tips to Consider
Keeping up with routine maintenance on your vehicle to reduce the likelihood that you will have to jump start your car's battery.
If you jump your vehicle's battery and allow it to recharge, but it still won't start later on, then your battery may need to be replaced.
If the interior lights, radio, and other electrical systems work, but the engine doesn't turn over, you could have a bad fuse, a faulty starter, a poor ignition switch or another problem.
Contact the service center at Gates Nissan if your vehicle is in need of an inspection!
Rely on Gates Nissan for Auto Maintenance & Repair
For services big and small, regardless of whether you require an oil change or replacement battery, the highly trained professionals in our service center can help. Schedule your service appointment online to ensure your vehicle continues running smoothly while driving through London. You can also get more car service tips, like how to start a Nissan with a dead key fob, or how to program your Nissan Intelligent Key from our expert technicians!
Recent News from Gates Nissan
Since its inception, the Nissan Rogue has performed admirably against competitors like the Honda CR-V or the Volkswagen Tiguan. The 2021 Nissan Rogue redesign, however, is setting new standards in the compact SUV market, and puts the Rogue far ahead of its competition. Learn more about the new Nissan Rogue interior, performance, and safety system…

Nissan is setting new standards in the car industry with the announcement of the 2022 Nissan Ariya: a new all-electric Nissan vehicle for the next generation. Unlike the new Nissan Leaf, the Nissan Ariya will be an electric crossover SUV and will offer up to 300 miles of driving range in Richmond. Slotted for release…

The new Nissan Rogue is a popular SUV among Richmond drivers because of its easy driveability. Drivers can navigate Lexington roads with ease or travel to their favorite camping spot with the Nissan Rogue model's exceptional performance and capability. The 2020 Nissan Rogue has a maximum towing capacity of 1,102 pounds, which is perfect for…